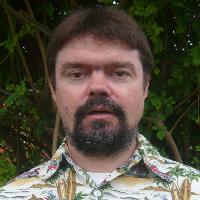 Jerome Orosz, Ph.D.
Pronouns: Jerome
Undergraduate and Graduate Advisor
Professor of Astronomy
College of Sciences
Department of Astronomy

San Diego
Email

Phone

Location

P 241
5500 Campanile Dr
San Diego, CA 92182

Mail Code

Fax

Links

Accounts
Areas of Expertise
Binary stars, stellar mass black holes, transiting exoplanets
Bio
I was a graduate student in the Yale University Department of Astronomy where I did a thesis called "Optical Observations of Black Hole X-ray Novae" (click here for a brief summary). I have recently moved here to San Diego. Previously I was at the Sterrenkundig Instituut of the Universiteit Utrecht supported by Marten van Kerkwijk and Frank Verbunt, and before that at the Department of Astronomy and Astrophysics at The Pennsylvania State University. I was working with Richard. A. Wade on models of the UV spectra of selected cataclysmic variable stars in order to better understand the spectral line formation in the hot inner regions of the accretion disks found in these systems.